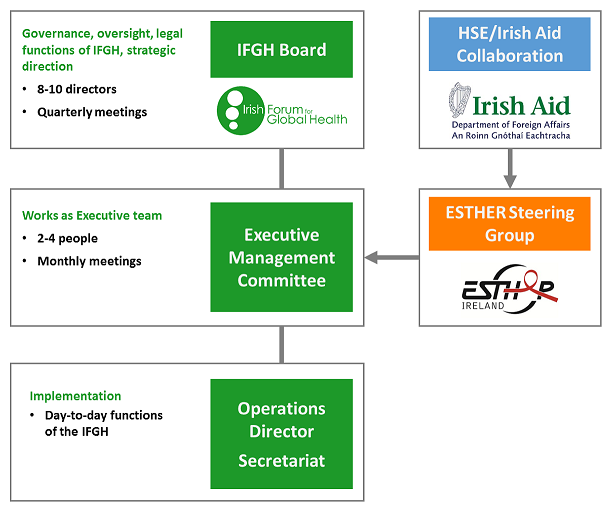 The Irish Forum for Global Health (IFGH) will fulfil the functions of the ESTHER Ireland secretariat, as one of its activities under the IFGH Strategy (2014-2017). A proportion of the work time of the IFGH Secretariat will be devoted to ESTHER secretariat activities. The day to day functions of ESTHER Ireland are carried out by the Secretariat. The Secretariat is currently made up of the Operations Director, Communications Coordinator (working 60%), Finance and Administrative Officer (working 20%) and two professional interns (working 30% each). The Secretariat is managed under the IFGH Executive Management Committee which meets monthly and includes IFGH Board members, at least one of whom is also a member of the ESTHER Ireland Steering Group.
See the bios below for more information on the Secretariat:
Nadine Ferris France, Operations Director

Nadine Ferris France is the Operations Director for the Irish Forum for Global Health and ESTHER Ireland. She is a communicator, writer, trainer and civil society activist with over 20 years' experience in gender, HIV and global health. She has worked extensively with global, regional and national civil society networks on HIV and TB for many years as the co-founder and Executive Director of Health & Development Networks (HDN). In addition to her experience within the NGO-field, she has also worked extensively with the World Health Organization and also lectures with various academic institutions. She is currently a member of the Programme Advisory Panel for the Robert Carr Civil Society Network Fund and the European AIDS Treatment Group. At this stage in her own professional development, she is particularly passionate about issues such as self-stigma affecting people living with HIV and survivors of gender-based violence. Nadine holds an MSc in Global Health from Trinity College Dublin. Her full profile is available at: https://ie.linkedin.com/in/nadinefrance1
To contact her, send an email to: nadine@globalhealth.ie
Steve MacDonald, Communications Coordinator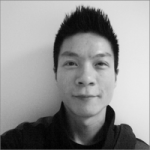 Steve manages the outgoing communications streams of the IFGH and ESTHER Ireland, to help keep members informed of news and upcoming events, as well as overseeing the strategic linking of IFGH/ESTHER Ireland communications with current events and other organisations in the fields of global health and development. He is also involved in generating original content for the IFGH website. Steve has a PhD. in biological sciences, with 5 years experience as a postdoctoral scientist, and his research has been published internationally in peer-reviewed journals, including recent work on the interaction of Tuberculosis with the human immune system. He also holds an MSc. in Global Health from Trinity College Dublin, and his current professional interests include global health advocacy, and research around HIV self-stigma.
If you wish to contact Steve please email steve@globalhealth.ie
Sanita Lielbarde, Operations Intern, ESTHER Ireland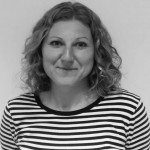 Originally from Latvia, Sanita has been living in Ireland for most of her adult life. She has been working in the area of Early Childhood Development for many years, however volunteering in Kibera slum in Nairobi in May 2014 influenced her to enter the field of international development. Since then she has returned to Kenya twice to work with small grassroots NGOs focusing on community development. Sanita holds First Class BA (Hons) in Social Science, and in plans in future to undertake masters studies in International Development. She has joined ESTHER Ireland as a professional intern, to assist in development of the Small Grants Programme and Monitoring & Evaluation.
If you wish to contact Sanita, please e-mail: sanita@globalhealth.ie
Ellie Marley, Operations Intern, IFGH & Student Outreach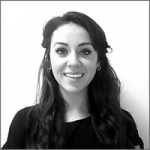 Ellie is the Operations Intern for the IFGH and the Student Outreach Group. Hailing from Ireland, she holds a BSc. in Health and Society from DCU and a MSc. in Immunology and Global health from Maynooth University, which have both contributed heavily to her keen interest in global health issues. Ellie's particular area of interest involves the HIV/AIDS epidemic, in particular the barriers and drivers of antiretroviral therapy adherence levels in developing countries, and she hope to continue this research further in the future. Currently, Ellie is helping to manage the social media outputs for the IFGH and she is also the main point of contact and support between the student outreach group and the IFGH.
If you wish to contact Ellie, please email: ellie@globalhealth.ie