Fulfilling Medical Equipment and Training Needs in Zambia

The EQUALS Initiative was established in 2013 as a collaboration between the HSE and the Royal College of Physicians of Ireland, based around donations of medical equipment from Irish hospitals to institutions in low- and middle- income countries, and the provision of training to improve service quality. To-date, 15 Irish hospitals and several companies have made valuable donations of life-saving equipment. EQUALS are currently working in Zambia to address the country's urgent need for trained and qualified biomedical engineering personnel to support medical equipment services at hospitals nationwide. The current Start-Up Grant will support partnership visits to Zambia by an EQUALS team of clinical engineers, who will conduct an assessment of equipment needs at Northern Technical College (NORTEC) in Ndola, and identify opportunities for collaboration, with special focus on training capacity and equipment. The team will work closely with the Director, senior staff, and trainers at NORTEC, as well as having the opportunity to interact with current students of NORTEC's Biomedical Engineering programme. During the visit, the team will also meet with staff of THET Zambia in Lusaka, to ensure that external support and collaboration can be delivered in a coordinated manner.
Please click here to learn more about the EQUALS Initiative at the HSE's website.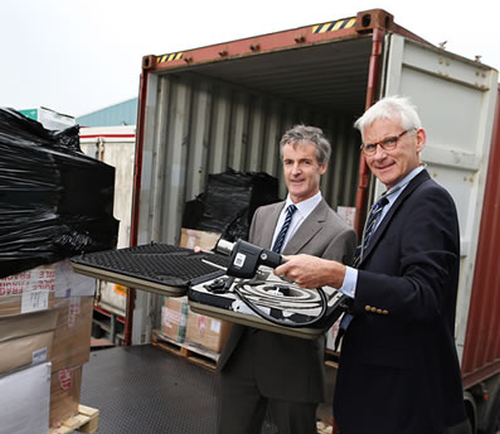 Prof Frank Murray, Consultant at Beaumont Hospital and Dr David Weakliam with container of medical equipment from Irish hospitals being shipped to Zambia (October 2014). Image courtesy of HSE.