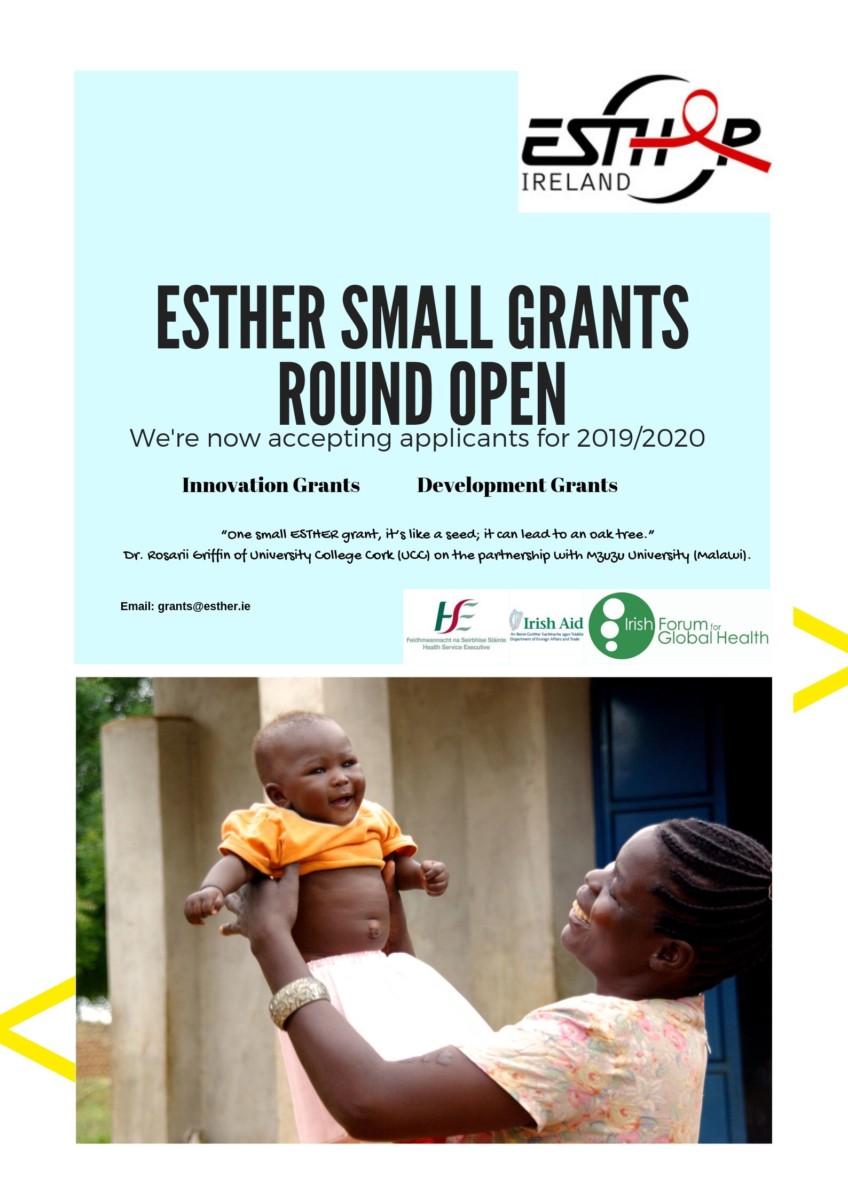 The 2020 ESTHER Ireland Small Grants Scheme is now accepting applications. 
Background
The European ESTHER Alliance engages health institutions in effective and sustainable North-South partnerships, strengthening the capacity of health institutions to provide quality services through knowledge generation, sharing best practice, collaboration, and advocacy.
The ESTHER Alliance aims to contribute to the achievement of healthy lives and well being for all, at all ages. ESTHER Alliance supports peer-to-peer partnerships that are capable of inspiring institutions and individuals to change the way they work, improve the quality of service delivery and potentially influence health policy.
ESTHER partners believe that this approach addresses systemic challenges in healthcare, contributing to Sustainable Development Goal 3 and progress towards Universal Health Coverage.
ESTHER Ireland grants have brought together hospitals, clinics and 3rd level institutions across a range of countries, from Ghana to Zambia and Nepal. So far ESTHER has supported over 20 health partnerships.
"One small ESTHER grant, it's like a seed; it can lead to an oak tree."
Dr. Rosarii Griffin of University College Cork (UCC)  speaking of the partnership with Mzuzu University (Malawi).
Funding for ESTHER Ireland is provided by Irish Aid, managed by the HSE and administered on behalf of the HSE by the Irish Forum for Global Health. The grants contribute to objectives of Irish Aid development policy A Better World.
ESTHER Ireland believes that robust partnerships can contribute to improved health services for poor and disadvantaged communities, and that these partnerships can lead to a "multiplier effect" on health outcomes. The grants support the development of best practice in partnerships and ensure that partnerships operate reciprocally and fairly. ESTHER Ireland creates learning and training events for Irish organisations to develop their partnerships work, developing  supports a community of health experts who work in North-South partnerships.
"It's finding that reciprocity in our relationship, that we can realistically do a clinical audit together in a way that is equally meaningful for both groups doing this work together."
Dr. Meabh Ni Bhuinneain from Mayo General Hospital, on the partnership between Mayo General Hospital Londiani District Hospital in Kenya
2020 ESTHER Health Partnership Scheme
This grant scheme has evolved over the past five years, supported by regular learning events held with partners. There are two bands of funding available in 2020, with priority being given to Band 1:
Band 1: Innovation Grants
This year's grants will focus on innovation, with a strong focus on supporting established health partnerships. Sample activities could include exchange visit or skills building workshops, activities could include education, training, mentoring, technical support, service quality improvement and research. To qualify for a grant, you will need to demonstrate development of the partnership: evidence of the quality of the partnership (achievements, progress over time, challenges overcome) as well as accreditation through the ESTHER process. You will also be asked to outline a 'theory of change' for development of the partnership: how have you planned for the partnership to strengthen the capacity of health institutions to address local health priorities and unmet health service needs, as well as how it will contribute to the goal of universal health coverage. If successful, you will be asked to submit case studies and contribute to ESTHER learning events.  For more information visit Application Guidelines 2020
Band 2: Development Grants
New and emerging health partnerships are also welcome to apply for funding to develop their partnership; activities could include the development of a formal agreement such as an MoU which will support the development of stronger ties between partners, or exchange visits with a view to building relationships and improving health outcomes. If successful, you will be asked to submit a case study and other details of how the funding has supported the partnership to develop. For more information visit Application Guidelines 2020
Available funding:
Innovation (Band 1): up to €10,000
Development (Band 2): up to €8,000
Grant funding should achieve value for money; having co-funding is considered an advantage.
Preference for all funding awards will be given to Irish Aid key partner countries providing bilateral support to the health sector (Mozambique, Ethiopia, Tanzania, Liberia), to other Irish Aid key partner countries (eg Zambia, Malawi, Uganda) as well as countries in which the HSE is engaged with through formal agreements (eg Mozambique, Sudan, Zambia).
Please click here to view guidance on the maximum rates for daily subsistence allowance, which vary depending on the region where visits will take place.
ESTHER Ireland will continue to support and monitor active partner participation at all stages of the grant implementation process in particular at the grant planning and reporting stages.  Applicants are encouraged to be as clear and succinct as possible in their proposals and ensure all background documentation, including that outlined in the introduction is included in the application.
Application Process
To apply for one of our grants please log in or sign up to the online grant platform, Common Grant Application, and complete the online application procedure. Applications will be accepted on a rolling basis for the duration of one year, applications will not be accepted after April 30th 2020.
First-time users register here
Returning users log in here
The below video provides a step by step guide on completing our online application form. Incomplete applications will not be considered.
If you have any queries, please email grants@esther.ie.