Partnership Coordinators
Dr. Philip Crowley (National Director, Quality Improvement Division, HSE)
Origins of the partnership
The partnership between the Irish Health Service Executive (HSE) and the Ministry of Health in Mozambique (MISAU) commenced in mid 2014, with the signing of a statement of intent, where both parties agreed to cooperate across a number of areas. The signing took place during a Presidential State Visit to Ireland, with participation from the Mozambique Minister for Health, Dr. Alexandre Manguele. The partnership's wide scope included strengthening national leadership and functions within MISAU, for providing quality care and safe services for patients, their families, and members of the public.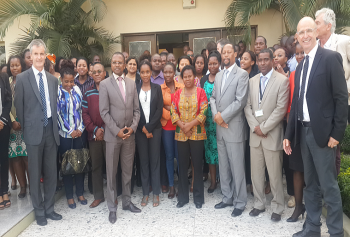 Health coverage is around 60% in Mozambique. Malaria and tuberculosis continue to be a problem for the country's 250 million inhabitants, however they are also experiencing an increase in noncommunicable diseases. Maternal and neonatal deaths are also a major health issue, at 408 per 100,000, and 64 per 1,000  respectively.
The HSE and MISAU set out to explore ways to strengthen quality and patient safety in Mozambique's health services through development of strategy, plans, and tools, as well as governance and management. It was also agreed to examine ways to build capacity and capability among leaders in quality improvement.
Partnership Model and Priorities
The HSE + MISAU Partnership model focuses around sharing of knowledge of different health systems, and improvement in capacity and capability through coaching conversations, training of team leaders, and improving quality with local resources. The partnership has been greatly facilitated by the support of Irish Aid in Mozambique, and in 2016, the International Society for Quality in Health Care (ISQua) became an additional partner, providing support for project design and implementation.
MISAU had identified quality improvement in hospitals as a priority, and in 2016, the partners decided to undertake a programme of training and capacity building for hospitals using the approach of the successful Leadership and Quality Programme implemented by the Royal College of Physicians of Ireland and the HSE.
The partnership has been characterised to date by equality and respect – there is no hierarchical relationship between the Northern and Southern institutions, and exchanges are based on ethical attitude and behaviour.
Partnership growth
Since its inception, the partnership has now expanded to 17 ongoing projects at 14 hospitals around the country, and 3 departments within MISAU. These projects include areas such as reducing waiting time in emergency services, improving medical and nursing records, and reducing hospital mortality.
Around 80 individuals from within MISAU, and Mozambique's hospitals, have participated in planning and implementing projects, and the HSE has provided human resources for training visits and coaching. In future, the partnership also aims to extend to a hospital twinning project, as well as implementation in other directorates, such as in Finance and Human Resources.
More about the HSE + MISAU partnership
As part of the cooperative activities, a delegation from MISAU attended the 1st ESTHER Ireland Partnerships Forum in Dublin in November 2016, where Dr. Elenia Macamo Amado presented an overview of progress to date within the partnership. Please click on the image below to watch Dr. Amado's presentation, and click here to download the presentation slides.