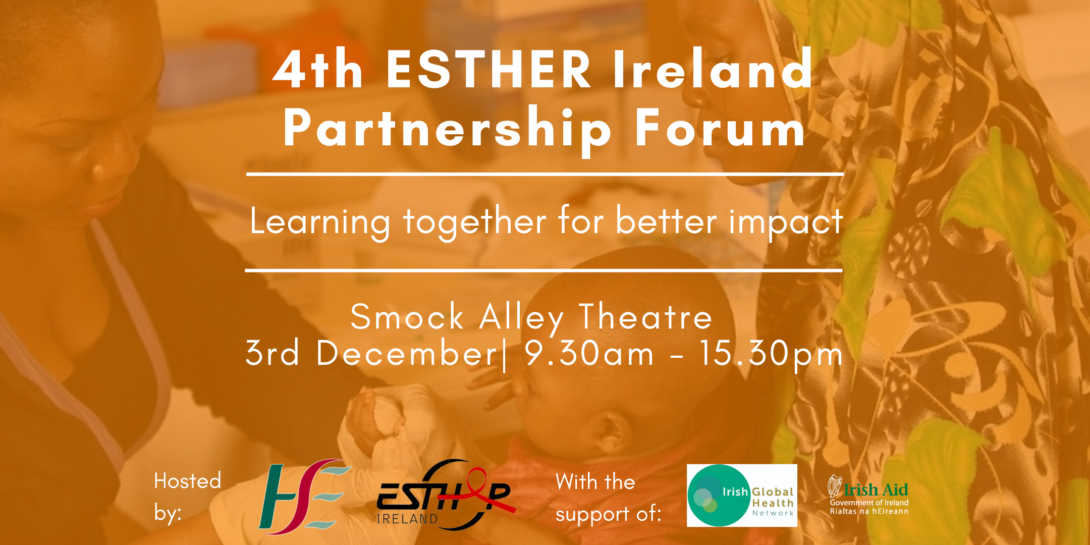 The Partnership Forum is an annual collaborative networking and learning event
Register on Eventbrite
here
About this Event
The event showcases international health partnerships between health organisations in Ireland and overseas. This event will bring together ESTHER Ireland Partners, health personnel engaged in health links with less developed countries, and others interested in learning more about health partnerships.
This year's forum is being convened under the theme: 'Learning together for better impact'.
Attendees will gain insight into the characteristics of good partnerships, will learn about working effectively cross-culturally and also take home some practical tips about how to raise funds for partnerships. The event promises to be a full day of knowledge exchange including a keynote from ESTHER Switzerlan Project Manager, Luciano Ruggia, workshops, skills sessions, plenaries and posters, culminating in an 'Unsung Heroes' awards ceremony acknowledging outstanding contributions made by individuals working in health partnerships.
Registration starts at 9:00 am. Find the full programme here
About ESTHER Ireland
ESTHER Ireland is part of the HSE Global Health Programme and is managed by the Irish Network for Global Health with support from Irish Aid
ESTHER Ireland is a joint HSE-Irish Aid health development cooperation initiative and has been a part of the ESTHER Alliance for Global Health Partnerships (EA) since 2012. The EA works to improve health systems, institutional capacity and the health workforce so as to provide for health needs in Africa, Asia and Latin America. ESTHER Ireland uses the twinning model to foster effective partnerships between high income countries and low-and-middle income countries (LMIC).
Through ESTHER Ireland, the HSE aims to facilitate Irish hospitals and other health organisations to engage in partnerships with similar organisations in less developed countries. This provides a mechanism for health staff to contribute to health needs in LMIC while continuing to be based in Ireland. Besides making a contribution to the health outcomes in developing countries these partnerships have also been shown to have advantages and benefits for developed countries. Accordingly, ESTHER-supported partnerships are "agents of change" in a multiplicity of intervention areas that focus on the creation of a sustainable and resilient partnerships with positive changes at all stages of the results continuum.
Further Details
This event is free of charge, however, registration is necessary. Tea/Coffee and light lunch is included. Please bring your own reusable water bottles.
Getting there
Parking
Nearest car parks are Fleet Street Car Park and Christchurch Car Park.
Patrons can also pre-book their parking at Fleet Street at https://www.bookings.parkrite.ie and Christchurch at https://www.q-park.ie
On Foot
Smock Alley Theatre is situated on Exchange Street Lower with its façade facing on to Essex Quay/Wood Quay. It is only a 12 – 15 minute walk from Tara Street DART station and 5 – 10 minutes from the Jervis Street or Four Courts stops on the LUAS red line. It is a 10 – 15 minute walk from O'Connell Street. There are parking facilities at Christchurch and Fleet Street.
Bus Routes
Situated in the city centre, Smock Alley Theatre is serviced by many bus routes. The following are the nearest stops:
Stop Number 1443 (Wood Quay): 37,39a,39,51d,69,69x,70,79,79a,83,83a,145
Stop Number 1479(Ormond Quay): 83,25,25a,25x,26,37,39,39a,51d,51x,66 a, b, x ,67, 70,83,83a,145,151
Stop Number 1480 (Ormond Quay): 79a,79,69
Stop Number 312 (Wellington Quay / Parliament Street): 25a, 67,66b,25,26,66,66a,67,67x
Stop Number 2002(Parliament Street): 13,27,40,49,77a,123,747
Stop Number 2003(Lord Edward Street): 56a,54a,150.
You can find the most appropriate bus route for you here.