The Gorey-Malawi Health Partnership was formed in May 2016. It links the Palms GP Surgery in Gorey, Co Wexford, Ireland with two hospitals in Northern Malawi – Mzuzu Central Hospital and St Johns Hospital in Mzuzu.
The focus of this partnership is on non-communicable diseases, also known as chronic diseases. These include conditions such as asthma, diabetes and high blood pressure.
The World Health Organisation (WHO) has estimated that 16 million people die prematurely worldwide – before the age of 70 – from heart and lung diseases, stroke, cancer and diabetes. NCDs are now the leading causes of death globally, and nearly three quarters of these deaths occur in low and middle income countries such as Malawi. Malawi is one of the poorest countries in the world and has a population of 16 million people.
A study conducted by the WHO showed that 1 in 3 people aged 25-64 years have high blood pressure but 3 in 4 of these people are unaware they have high blood pressure. 1 in 18 people have diabetes and 1 in 20 have asthma and yet programmes for the prevention or treatment of these conditions are poorly developed. The Palms GP Surgery has been developing initiatives to improve the care of these conditions with its partners in Europe and Malawi.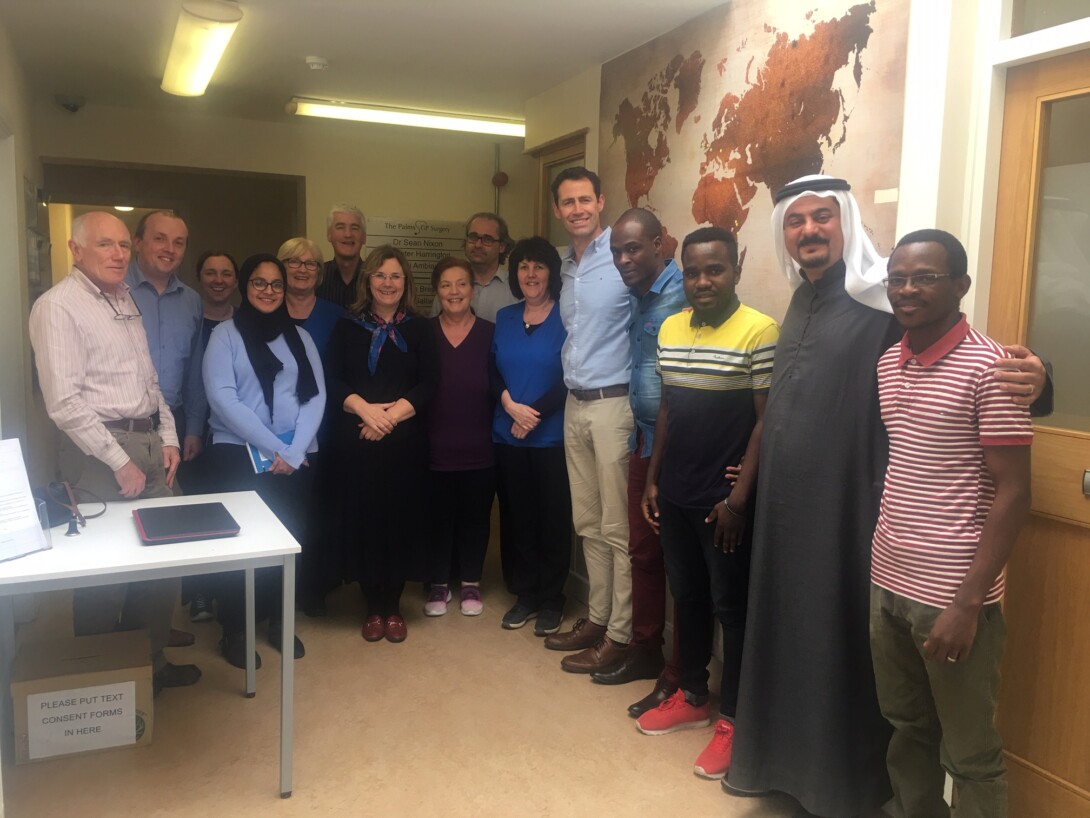 Accomplishments to date
A formal Memorandum of Understanding has been signed between the Palms GP Surgery and Mzuzu Central Hospital and St Johns Hospital Mzuzu.
Three Clinical Fellows in Non Communicable Disease Care have been appointed to develop protocols and improve management of these conditions in Malawi and the surrounding areas.
Laptops and internet connections have been supplied to the Clinical Fellows to allow them to record data, provide education and take part in web conferences.
Clinical protocols have been developed for the management of asthma and COPD – both chronic lung diseases Training materials have been developed for staff in Malawi Management sheets for inpatients and outpatients have been developed.
Regular web conferences are being held between Mzuzu and the Palms to discuss clinical cases. A large amount of medication and medical equipment was delivered to the hospital in June 2018.
Exchange visit hosted in April 2019 which saw Palms GP surgery host three health professionals from Malawi.
In August 2019 a partnership report, written by Peter Harrington and Joe Gallagher was featured in Forum Journal of Irish College of General Practitioners and detailed one of the partnership's projects which sought to improve asthma care with limited resources in Malawi. Read the full report here. 
3 clinical officers from Malawi travelled to the Palms GP Surgery in April 2019 to study non communicable disease (NCD) management in Ireland, including practical skills workshops, discussion of clinical and training needs in Malawi, along with Irish Culture. The week culminated with a presentation in Gorey Library by Hastings, Chikondi and Themba on Malawi and their work.
In October 2019 3 staff members from the Palms GP Surgery travelled to Malawi. Steering committee involving government and NGO presence alongside staff of St John's was a great endorsement of the programme. The initial one year audit of data from the asthma clinic demonstrates a 57% reduction in admissions for asthma. In the past year St John's Hospital has developed two NCD clinics now caring for almost 1500 people. Palms GP Surgery staff met with 4 other rural institutions who wished to learn from the Gorey Malawi Health Partnership to improve their asthma management.
Increased range of activities at St John's hospital by commencing work to improve the diagnosis and management of cardiovascular disease, a major cause of morbidity and mortality.
The partnership received a grant from RHD Action to increase community awareness of rheumatic heart disease in Chigwere, a rural area about 28 km away from Mzuzu.
Plans for the Future
Currently working to involve academic partners from Ireland (University of Limerick) and Malawi (St Johns Institute of Health) to develop the work further.
Begun development of online educational materials that can be distributed to remote and rural areas using the widespread 3G network.
Planning to expand the range of conditions being managed to include hypertension and rheumatic heart disease at the request of our Malawi partners and are establishing training in these areas. Have now developed practical skills workshops and identified trainers in Malawi to provide these. Training of Trainer workshops planned for 2020.
Regular web conferences held to discuss cases to continue engagement even when being together in person is not possible.
With work in Chigwere and the four additional institutions met on the most recent trip, now plans to expand work in more rural areas to reach those furthest away from healthcare.
In the News
The partnership recently featured in the Gorey Guardian with Palms GP Surgery hosting an event to welcome their Malawian colleagues for an exchange visit to Gorey. Encompassing a key aspect of ESTHER Ireland's ethos, promoting reciprocal learning experiences.