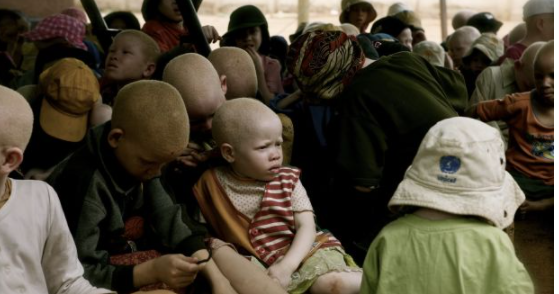 Just this month, Saidi Dylon was murdered for his body parts in Malawi and there was an attempted abduction of another of the patients that attends the clinic in the Machinga District this week.
Read a recent article in the Irish Times
Since 2016, Edenpark Surgery and Standing Voice have intervened to halt this crisis based on a successful model being used by Standing Voice Tanzania.  Dr Mark Wheeler, is the Clinical Director of Standing Voice Malawi. They are funded by the ESTHER programme.
More info about the partnership here 
People with albinism in Malawi are a violently abused minority. Many are shut out of civil participation and unable to access the most basic opportunities and services, including healthcare, education, housing, and employment. Markedly paler than their dark-skinned peers and families, people with albinism are also highly visible, where the condition remains poorly understood and shrouded in suspicion and myth.
As of 17th December 2020, 213 people with albinism have been murdered, and 615 have been attacked, across 29 African countries since 2006 due to witchcraft beliefs. Malawi presents one of the most severe cases. 54 attacks have been recorded in the country since 2014 of which 17 were murder cases.
Standing Voice and Edenpark are looking to exert pressure on the Malawian government to end these atrocities and bring pressure to bear on the government there to recognize and protect this very vulnerable population.