Paediatric Cancer Care Partnership: Ireland and Tanzania
Our Lady's Children's Hospital, Crumlin is Ireland's largest acute paediatric teaching hospital and is the national centre in Dublin, Ireland for paediatric cancer services. Chemotherapy and Pathology are conducted on-site at the hospital, while other services including radiation, orthopedics, are distributed across other hospitals; neurosurgeries for example would take place in Temple Street Hospital for children under the age of six, and in Beaumont Hospital for children over the age of six. In Ireland there are roughly 160 paediatric cancer cases reported annually, with 40 being leukemia, 30 brain tumours, and the remainder another form of physical cancer.
Since 2007 Crumlin has been lending support to paediatric cancer care in Dar es Salaam, Tanzania, first in The Ocean Road Cancer Institute, and now in Muhimbili National Hospital. Dr. Trish Scanlan trained with OLCHC before traveling to Tanzania to complete her 2006 Master's thesis in The Ocean Road Cancer Institute, where she first conducted a needs assessment, SWOT analysis, and analysis of outcomes for children with cancer in ORCI in 2005. As a national cancer referring center and training facility, OLHC was well positioned to provide training and medical education knowledge sharing across the coordinated cancer care spectrum, from diagnostic services, to pharmacy, to chemotherapy and oncology nurse training, to intensive and critical care management and assessment.
Every department in OLCH has contributed to the Paediatric Cancer Care Programme in Tanzania in some way throughout the duration of the partnership. Supports range from Standard Operating Procedures, to Psychosocial resources for the children, to Training programmes. There is now an MSc Programme in Paediatric Haemotology/Oncology housed in Muhimbili University of Health and Allied Sciences which Dr. Trish helped to develop, with the potential to add additional educational programmes in paediatric oncology nursing, laboratory training, surgical training, palliative care, and clinical engineering. There are at any given time 1 or 2 drivers or "champions" based in either institution – Dr. Trish is unusual in that she is based in both Crumlin and Tanzania. The long range goal would be to make certain aspects of the Ireland-Tanzania twinning arragement unnecessary. The more successful the twinning programme, the less necessary some of the Dublin based supports become over time.
ESTHER Ireland Visit to Crumlin's Pathology Lab
As part of its improvement and national explansion 5-year strategy plans, OLCH-MNH are seeking to develop and advocate on behalf of centralised pathology services for Tanzania. ESTHER Ireland recently met with OLHC's paediatric oncology pathologist Dr. Michael McDermott, who is one of the physicians working closely with Muhimbili National Hospital on helping establish a full-time pathologist on the paediatric cancer multidisciplinary team (MDT) in Dar es Saalm. In particular he is interested in establishing a training programme for individuals in oncology diagnostic laboratory services. He explained how in children with cancer timing is very critical: tumours in children are often large relative to the size of the patient, growing rapidly, and highly sensitive to chemotherapy. Minimizing the length of time for diagnosing the cancer correctly and quickly can therefore make a great deal of difference to the child's survival. Burkitt's Lymphona, for example, has a 70-80% cure rate when diagnosed correctly and quickly. Formal, university accredited training programmes would be ideal for ensuring the long-term sustainability of pathology education in support of diagostic services. Professional graduates from such programmes would not only have the skills to excel but also a sense of ownership and achievement, and the opportunity to be compensated well for their work.
Another key issue to setting up a sustainable pathology lab is having the laboratory medical equipment, as well as the requisite interest, time, money for initial set-up, money to run the machines, and the ongoing maintenance of the machines. A large immunostainer is necessary to purchase, install, and to train people to both use the machine and interpret the results. Immunostainers can cost €30,000-40,000 per year to operate. They allow the pathologist to determine the type of tissue where the tumour is based—lymph, nerve, or muscle—in order to properly confirm and classify physical tumours.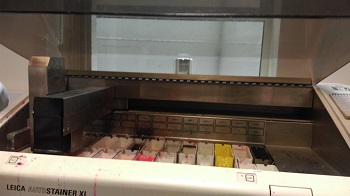 Currently MNH sends its pathology specimens to OLCH Crumlin for analysis. A Stage 1 diagnostic requires examining tissue sample slides under a microsope, a method for diagnosing physical tumours that has been around since the 1850s [1]. What is ideal and what MNH do not yet have is a Stage II diagnostic using immunohistochemistry. Crumlin receives the specimens from DHL (a service provided free of charge), makes the physical slides, and conducts immunohistochemical and genetic analysis on the samples. This process is surprisingly fast: MNH sends out samples on a Friday, which will be received, reviewed, and a preliminary diagnosis sent between physician teams by Monday afternoon.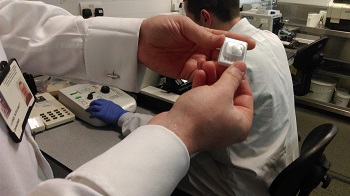 To assist in setting this up in Dar es Salaam would require an immunostainer to be purchased and installed in MNH, for 2 scientists from Tanzania to train with the team in OLCH Crumlin for a number of weeks, and for 1 pathologist to be trained in interpreting the slides. The goal is to prove this can be done on a wider scale first by setting up a fully functioning physical pathology unit. The treatment process of chemotherapy is punishing, long and slow: the first sign post is getting the diagnostic correct. Is it a nerve, lymphona, bone, or muscle cancer? An investment in diagnostic equipment is a good investment if it means additional resources are being spent appropriately on an accurate course of interdisciplinary patient care.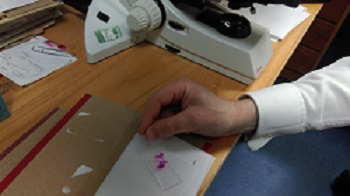 There are certain forms of cancer that even with all of the existing resources cannot be cured [2], and then there are those that with the right combination of trained staff, equipment, and care coordination can be cured. Having the right diagnosis means the physican team can make an informed decision about how to treat the children under their care. It only takes one to two incorrect diagnoses to make up for the initial cost of purchasing an immunostainer for a pathology lab like the one operating in OLCH Crumlin. An opportunity exists for collaboration to improve the standard of care in Tanzania and not to "reinvent the wheel". This sustainable transition could happen gradually, by first training staff to use the machinery and make diagnoses on the ground in Tanzania, with certain cases sent to Ireland in rare instances.   There could be a continued exchange to assist in verifying diagnoses in the beginning. This will help to establish the credibility that attracts further investment in acute oncology care and other areas of global health and development.
Successes and Risks with Leukemia Pathology Support
Diagnosing acute leukemia requires a similarly expensive flow cytometry equipment to diagnose acute leukemia. In Tanzania flow cytometry was being used initially in HIV diagnostics. It was relatively easy to adapt the machinery to leukemia diagnoses, and a number of health professionals and consultant have supported its use strongly. Histology laboratory flow cytometry techniques work quickly and reliably in securing an accurate diagnosis, and especially in certain types of leukemia can result in vastly improved prognosis.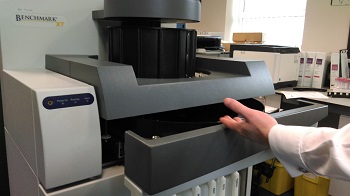 Dr. Sean Rooney found a partner on the histology lab in Dar es Salaam and trained him in leukemia diagnosis. Reagents to operate the equipment are costly (€7,000 per 100 patients or €70 per patient), but now a couple years of successful leukemia diagnoses has meant that money is saved down the line. However, there is the danger that the equipment will go offline and require immediate repairs. If Dr. Michael McDermott's machine breaks in Dublin, it will be replaced if it cannot be repaired on the spot, rather than have him go a day without it. Therefore it is crucial to buy the best machine that will be able to be supported in Dar es Salaam, not necessarily the best machine available worldwide. It could potentially be a real set-back if the partnership were to train individuals with the necessary equipment, only to have no way to make repairs or no staff person available to service the machine for weeks at a time. Dr. Rooney's success in setting up leukemia diagnoses was due in large part to the role of a "local champion" willing to commit to the efforts in Dar es Salaam.
Most important, say Dr. Rooney and Dr. McDermott, are the combined efforts of a multidisciplinary team of providers: the investment of individuals with the skills, patience, persistence, and tenacity to see the addition of a national pathology laboratory service succeed. It is important also for pathologiests and laboratory technicians to be recognised an integral members of the multidisciplinary cancer care team. At the moment Dr. Trish is working to bring a pathologist onto her team in MNH and to go to conferences held through SIOP, such as the 48th Congress of the International Society of Paediatric Oncology that will be held in Dublin in October 2016. There is a much better service provided if a pathlogist is working onsite who can participate in the conversation about what happens next with a patient's treatment. The ongoing challenges will be to secure the right equipment for the area, indentify a local champion, and advocate for the strong yet highly subjective anecdoctal evidence supporting the critical difference early and accurate diagnostic intervention by flow cytometry can make in treating paediatric cancers [3]. The heart of the partnership is its multidisciplinary team, all working closely and in frequent communication with one another in order to increase child cancer survival rates using the best diagnostics available.
This article was written by ESTHER Ireland Operations Intern, Megan Prado, following a visit to OLCH Crumlin, and interview with Dr. McDermott in Q3 2015.
[1] Steven I. Hajdu, M.D., "A Note From History: Landmarks in History of Cancer, Part 3," Cancer (2012) 118:4, 1155-1168.
[2] For example, Stage IV neuroblastoma is incurable in Africa at present (Dr Michael McDermott, OLCH Crumlin).
[3] A pathologist may be wrong 20-30% of the time if only determining a diagnosis under the microscope (Dr. Michael McDermott, OLHC Crumlin).