The Casablanca Voices
From October 14-16th 2014, the European ESTHER Alliance held its ground-breaking regional workshop in Casablanca, which, for the first time, gathered both northern and southern ESTHER partners from 22 African countries, and 8 European countries, to share knowledge and experiences in International Partnerships for Health (IHPs), and to work towards common solutions to outstanding challenges.
Overview of Workshop Perspectives
DAY ONE
The workshop commenced with an introduction to the EEA's activities, by General Secretary Farid Lamara, who emphasised the diversity of EEA partnerships – each country's ESTHER secretariat operates within its own structures, which has in part contributed to the breadth of activities seen today. Carried out by hospitals, research centres, Civil Society Organisations, and more, activities focus on areas ranging from mentoring, operational research policy development, service delivery, institutional strengthening, through to e-learning approaches. In combination with intervention areas that include surgery, Maternal, Newborn and Child Health (MNCH), HIV/AIDS/TB, DPSM (Drug procurement supply management), non-communicable diseases, patient safety, and many more, EEA activities serve to generate and stimulate change at the front line. All partnerships are built on mutual trust, long-term commitment, and solidarity, aiming to be responsive to local needs.
The EEA model also respects the Paris Declaration on principles of aid effectiveness, giving weight to country ownership, alignment to national policies and systems, and partnership with national authorities. By setting and promoting key principles for the quality of partnerships, such as formal partnership agreements, reciprocity, joint and equal responsibility, transparency, and strict ethical compliance, the EEA model also aims to provide a sound basis for longstanding strengthening of health systems.
Yvonne Schoenemann, Coordinator of the ESTHER Germany Secretariat, then presented the 2013 evaluation of the EEA, followed by a presentation of the EEA's 2015-2020 strategic framework by ESTHER Ireland's David Weakliam.
The afternoon's session was broken into several streams:
Health Service Delivery, featuring presentations using case examples from Mali (presented by Mariam Sylla), and COSECSA (presented by Pankaj Jani).
Health Workforce, featuring presentations on the role of IHPs in strengthening health human resources in Ghana (presented by Emmanuel Teye Adjase), and the use of partnerships in human resources for health and task shifting in Niger (presented by Ide Moussa).
Health Information systems, featuring a presentation on the example of Côte d'Ivoire (presented by Eugène Messou).
The role of IHPs in hospital supply chain management, featuring presentations using examples from Malawi (presented by Sam Phiri), and from Côte d'Ivoire (presented by N'guessan Kissiedou).
Workshop Day 1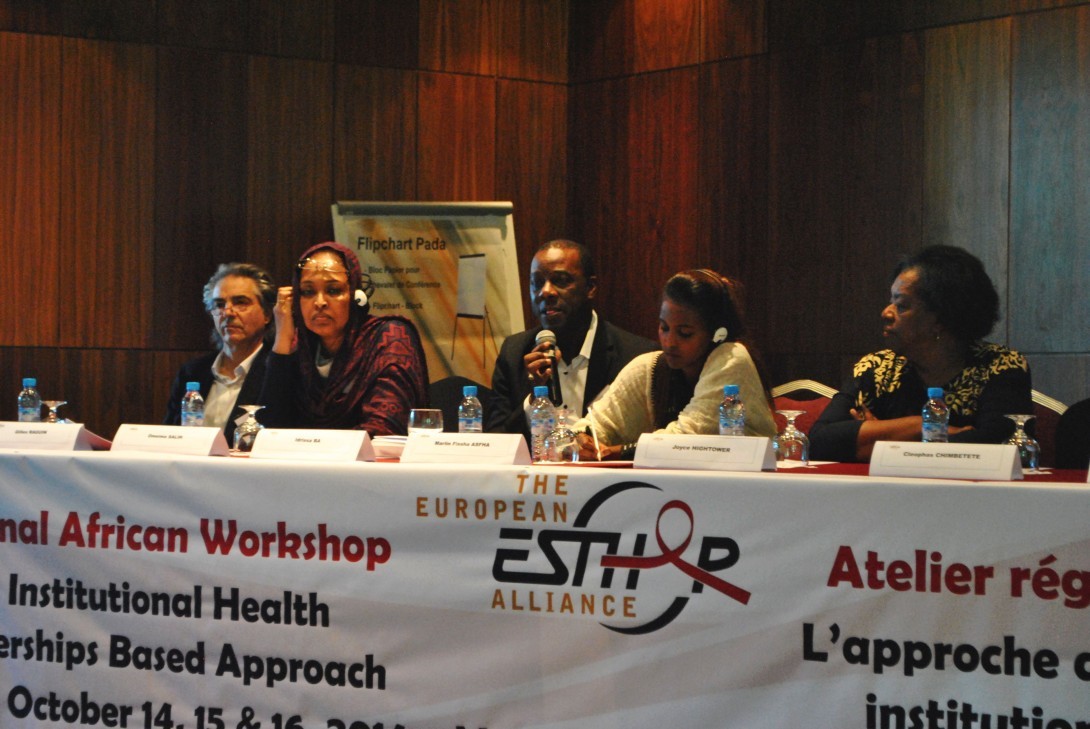 DAY TWO
The second day's sessions focused around the functional work done in partnerships by EEA member countries and their southern counterparts. The morning session explored the role of IHPs in Health Systems Strengthening, firstly asking how IHPs can impact health policies. This was illustrated using examples from Sénégal, on work done with Intravenous Drug Users, presented by Idrissa Ba, followed by a presentation on working with HIV/AIDS and infectious diseases in Ethiopia, given by Marlin Fissha.
The focus then moved on to the role of IHPs in crisis prevention, taking the current topic of combating the spread of Ebola, firstly with an overview by the WHO's Joyce Hightower. Subsequent presentations then examined how Ebola is managed at a hospital level, with examples given from Zimbabwe, by Cleophas Chimbetete, Burundi, by Jean Bosco Nduwarugira, and Burkina Faso, presented by Paul Ouedraogo. Christophe Michon provided insight into the ways in which ESTHER France was participating in formulation of national Ebola outbreak response plans, and operations of ESTHER France in Cameroon were detailed by Olivier Terzolo. ESTHER Ireland's David Weakliam then gave a rundown of Irish participation in the global response.
Day two's afternoon session explored strategies for improving quality of partnerships and aid effectiveness. Chaired by Hervé d'Oriano and Hamidou Ababa Touré, two separate working groups first came together to revisit the EEA Charter for Quality of Partnerships. Subsequently, Yvonne Schoenemann and Adrian Sawadogo then chaired a further two groups who collaborated to examine improved methods for measuring quality of partnerships themselves.
Participants at Workshop
DAY THREE
The outputs from the previous day's working groups were presented on the morning of Day three, with refinements being accepted into both the EEA Charter for Quality of Partnerships, and EEA strategies for measuring the quality of those partnerships.
Round-table discussions then began, exploring the theme of "Specificity, added value, and partnerships' impact". The first discussion centered around Mother and Child Health, chaired by Abdessamad Benalla and Tony Ryan. Secondly, participants discussed strategies for Hospital Management, chaired by Gerd Eppel and Madeleine Mbangue. Finally, Operational Research from Niger was presented by Zara Diallo, with discussion moderated by Christophe Michon.
The workshop closed with a session of networking and perspectives for joint collaboration. This was a historic and significant meeting for the EEA, for the first time gathering together such a large group of both northern and southern partner countries' representatives. Over the course of the three days, partnerships were strengthened and renewed, and new avenues discovered in which the work of the EEA can further build and improve health systems. Many participants at the workshop spoke of the need for cultural openness, mutual respect, and willingness to work together, and this was plainly evident from the ways in which this unique group of health professionals interacted and collaborated over the three days.
We asked a number of participants for their thoughts on the workshop, and International Health Partnerships – you can view these by clicking below, which will take you to a Youtube playlist of the full interviews.