ESTHER Ireland hosts successful Start-Up Grants Workshop
On Wednesday 11th March, ESTHER Ireland held its first Start-Up Grants Workshop at the Department of Epidemiology at the Royal College of Surgeons in Ireland in the centre of Dublin. The initial announcement generated a high level of interest among those following ESTHER Ireland's activities, and the workshop drew in 22 participants from across sectors, including academic research, clinical nursing, gynaecology, physiotherapy, dietetics, and pharmacy, each bringing diverse experience and perspectives to the table.
Dr. David Weakliam introducing ESTHER Ireland.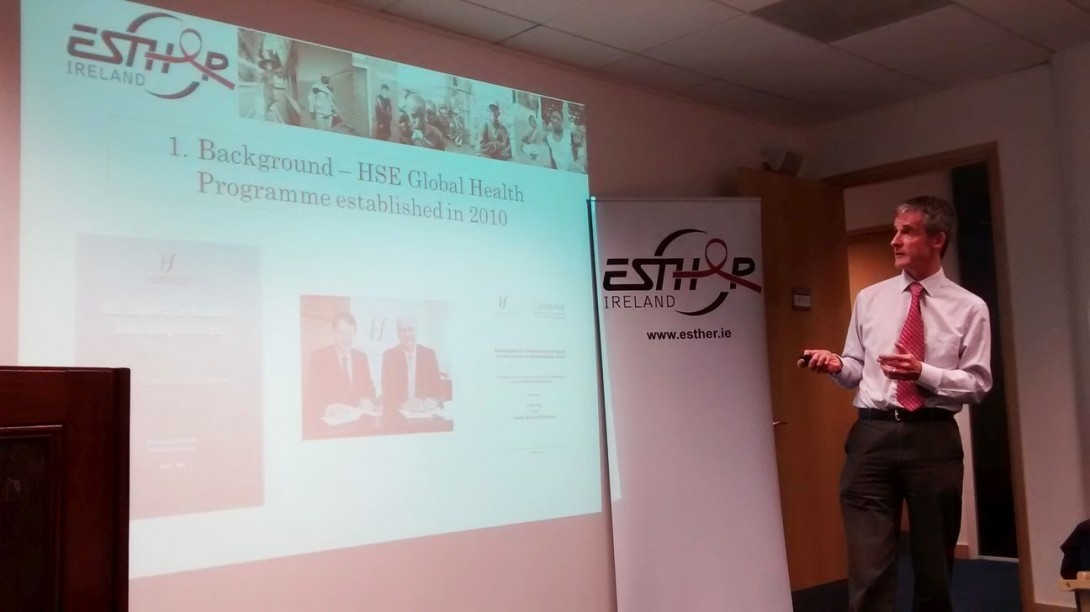 Some were already working in international health partnerships, and were seeking to make the transition to more formalised engagement, whilst others were interested in beginning a new relationship with an overseas institution. In addition, some attendees were currently working on their own initiative with an institution abroad, but now sought to partner with an Irish health institution.
After initial introductions, the Chair of ESTHER Ireland, as well as current Chair of the European ESTHER Alliance, Dr. David Weakliam, gave an overview of ESTHER Ireland's objectives and activities to-date. Dr. Weakliam highlighted some of the key aspects of good-quality partnerships, including:
Long-term commitment
The 'human factor' of people working with people
Relationships must be reciprocal and respectful
Partnerships should be driven by needs on the ground
He also emphasised that one of Ireland's strengths lies in its excellent human resources for health, and their ability to deliver care, ethics, and professionalism at the very highest standard, and ESTHER Ireland exists to support them to work in partnership with institutions overseas.
Operations Director Nadine Ferris France then introduced past partnerships, and the Start-Up Grants process. Participants were given a run-down of the steps from initial contact and Letters of Interest, through to the formal application, approval conditions, as well as the types of project that can, and cannot be funded – for example, whilst ESTHER Ireland does not provide long-term support to partnerships, the start-up grants aim to support the initial interactions to engage stakeholders in the process of formalising partnerships.
Time was also given for participants to share their own experiences and thoughts on strategies for successful partnerships, with key lessons such as ensuring that institutional support at the highest level is given to ground-level staff, and avoidance of bureaucratic delays through careful leadership and management. The workshop also provided the space for participants to network, finding common ground and experiences, and in some cases the potential for new collaboration and partnerships.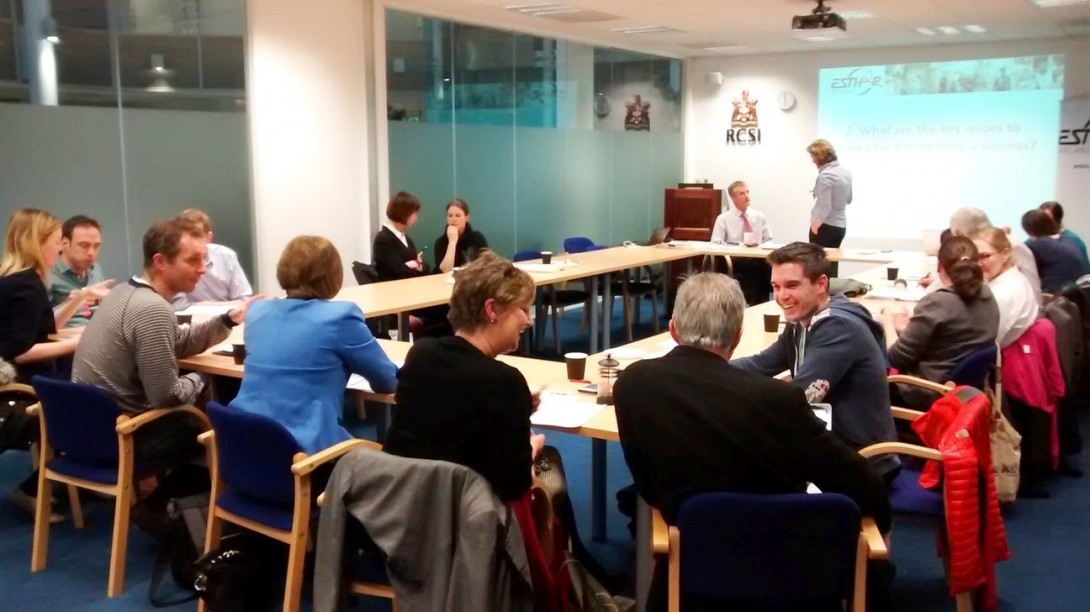 This successful workshop highlighted the breadth of interest and the diversity of programmes that this cohort of participants are currently working in, and ESTHER Ireland will hold further workshops later in the year across other regions of Ireland, to serve participants who were not able to attend in Dublin.

Participants at the workshop sharing experiences.